Welcome to The Sample, where we whirl the dial on the interwebs, hit record, and sample what we hear about the topic in this issue. This month our attention is drawn to the tension in marketing right now, about moving forward, waiting and what's next.
---
Are we there yet?
The first article I'd like you to take a look at is by Robert Rose, a resident here at Rockstar CMO, but also The Chief Trouble Maker at The Content Advisory and in his wonderful article Are We There Yet? he talks about patience, something we probably all need a little of as life gets uncertain. [ Read more ]
Patience isn't just waiting for things to get better. It's not a psychological game of grin and bear it. It's not suppression. Patience is a power, an art, that gives you an advantage when practiced well
---
Thoughts on Relationships, Work, and Challenging Times
Speaking of resident Rockstar CMO contributors, over on his own blog Ted Rubin has written a very extensive piece on the importance of relationships right now that pulls together a lot of what Ted talks about, with his "return on relationships" ethos. [ Read more ]
One thing that's relevant to a lot of what we've talked about here (especially in this environment) is: A brand is what a business, or a person does; a reputation is what people remember and share. Brands are so busy trying to sell people things at a time when their customers have other things to think about. It's insulting to the customer. Please take this to heart.
---
Beyond COVID-19: What comes next? Marketing in a recession
I admit, this article is a month old, but it's still fresh and relevant as we look to pull up from the economic impact of the crisis. It's by Pete Morgan, Vice President, Demand at Metia, who we've chatted to here on Rockstar CMO and it's posted on their blog. He cites various sources of research that point to the value of marketing in a recession. I personally liked the quote below he pulled from the IPA. [Read more ]
The opportunity for marketers was elegantly stated by the Institute of Practitioners in Advertising (IPA) in a recent advert in the Financial Times: "When others go quiet your voice gets louder".
---
The Impact of Coronavirus (COVID-19) on Marketing Teams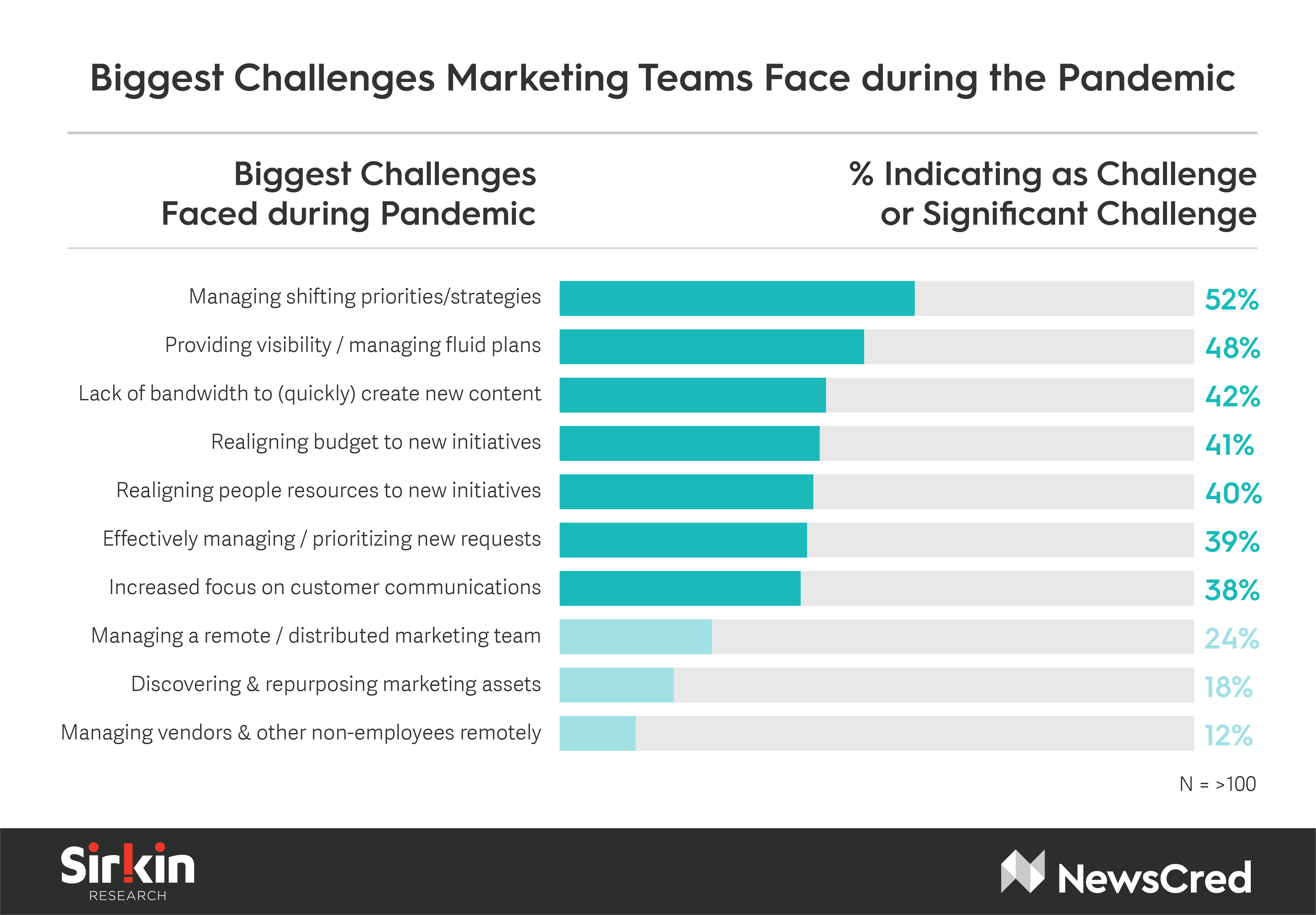 Newscred commissioned Sirkin Research (part of Arras Consulting), to survey marketing leaders in enterprise-level organizations to understand the impact of coronavirus and the findings are quite interesting, if not somewhat predictable as marketing spend shifts to virtual events, webinars, and content marketing, there are some good numbers in here. [ Read more ]
---
And a break from COVID
Something I have been binging as I was late to the party on this one is Douglas Burdett's podcast that interviews marketing authors.
It really doesn't take much for me to fill up my Amazon basket as I love to buy marketing books and it's a great listen.
Right now he's revisiting many of his author's guests with his series "Authors in Quarantine Getting Cocktails" [Listen here]
---
Share this article
Get In Touch
If you are looking for more marketing street knowledge and would like to setup an advisory, or have any feedback, get in touch!
Subscribe
Author